Dr Sufi on BBC Breakfast
---
Obalon Balloon Pill - Helene Fleckley Testimonial
---
Obalon Balloon Pill - Julie Byrne Testimonial
---
Obalon Balloon Pill - Rafal Nuckawski Testimonial
---
Dr. Pratik Sufi explaining about Obalon Balloon Pill
---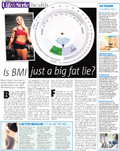 Is BMI just a big fat lie? The obesity measure under the microscope
Source: metro.co.uk
Yet as reported in Metro, the 39-year-old personal trainer was told by an NHS nurse in east London she should go on a strict diet. The reason? Her body mass index was 29 – meaning she was just short of obese.
But what is BMI? And should we still be using a system designed in the early 1800s?
BMI was created by Belgian statistician Adolphe Quetelet around 1830 as a measure of obesity and adopted by the British government in an effort to promote healthy eating.
---
Gastric bypass better than gastrectomy for GERD relief
Source: News Medical
Patients who are about to undergo bariatric surgery may be better off having a gastric bypass than a sleeve gastrectomy if they also suffer from heartburn, results of a large US analysis suggest.
A review of more than 38,000 bariatric surgery cases found that laparoscopic sleeve gastrectomy (LSG) did not relieve heartburn and may actually have caused gastroesophageal reflux disease (GERD) in some patients. In contrast, Roux-en-Y gastric bypass (GB) was associated with GERD relief. LSG was also associated with reduced weight loss if GERD was present.
---
Gastric banding patients should closely monitor nutrition following surgery
Source: Medical Xpress
Patients who have had bariatric surgery may need to take dietary supplements and pay closer attention to their nutritional intake, a UT Southwestern Medical Center study suggests.
The study, published in the Journal of Investigative Medicine, tracked a group of gastric banding patients and found that despite nutritional counseling over a three-month period, most still did not meet recommended daily requirements for important nutrients such as protein, vitamin D, and calcium.
---
Increased sleep could reduce rate of adolescent obesity: Each additional hour of sleep is associated with a lower BMI
Source: Medical News Today
Increasing the number of hours of sleep adolescents get each night may reduce the prevalence of adolescent obesity, according to a new study by researchers from the Perelman School of Medicine at the University of Pennsylvania. Results of the study show that fewer hours of sleep is associated with greater increases in adolescent body mass index (BMI) for participants between 14 and 18-years-old. The findings suggest that increasing sleep duration to 10 hours per day, especially for those in the upper half of the BMI distribution, could help to reduce the prevalence of adolescent obesity. Full results of the study are available online in the latest issue of Pediatrics.
---
Stomach surgery for more patients
Source: DailyRx.com
Bariatric surgery guidelines revised in three medical bariatric societies Surgery to shrink the stomach has typically been reserved for extremely overweight patients having trouble losing the pounds. But new bariatric surgery guidelines suggest that the procedure might not be just for the obese.
Three major medical societies recently revised their guidelines to open metabolic and bariatric surgery to older patients and mild to moderately obese patients.
The new guidelines also address how to choose the right surgical method. The changes are based on research done over the last four years to help doctors, surgeons and other health professionals make informed decisions to benefit patients, according to researchers.
---
Obesity may explain reduced bone fracture risk worldwide
Source: Medical News Today
An Australian study shows that women - but not men - with more abdominal fat are less at risk of bone fracture. This may explain why global rates of fracture are declining at the same time as obesity is increasing.
Abdominal fat is an important risk factor for diabetes and cardiovascular disease, and the authors of the study are by no means recommending that women should gain abdominal fat to protect their bones.
---
Relationship between obesity, heart disease and hypertension
Source: Medical News Today
Obesity, heart disease, and high blood pressure (hypertension) are all related, but understanding the molecular pathways that underlie cause and effect is complicated.
A new University of Iowa study identifies a protein within certain brain cells as a communications hub for controlling blood pressure, and suggests that abnormal activation of this protein may be a mechanism that links cardiovascular disease and obesity to elevated blood pressure.
---
Getting white fat cells to burn calories could be way to tackle obesity
Source: Medical News Today
US scientists have discovered a protein switch that decides whether precursor fat cells turn into white fat cells that store calories, or brown fat cells that burn calories. They suggest the fight against obesity and diabetes could learn some valuable clues from studying how this switch works. For example, might it be possible to use it to reprogram white fat cells to behave more like brown fat cells?
Patrick Seale, an assistant professor of Cell and Developmental Biology and a member of the Institute for Diabetes, Obesity and Metabolism of at the Perelman School of Medicine, University of Pennsylvania, and colleagues, write about their findings in the 14 March online issue of the journal Cell Metabolism.
---
Further research necessary to fully understand the cause of obesity
Source: Medical News Today
A recent article published in the BMJ reveals that our understanding of what causes obesity may actually be incorrect. The author of the study, Gary Taubes, stresses that if we are to make any actual progress in combating obesity we must further our understanding on what actually causes it. Gary Taubes said: "What we want to know is what causes us to gain weight, not whether weight loss can be induced under different conditions of semi-starvation."
There have been two different hypotheses about the cause of obesity. The accepted hypothesis since the 1950s is that obesity is caused by overeating, however, there is an alternative hypothesis which states that it is caused by a hormonal imbalance.
---

Mr Sufi discusses the benefits of weight loss surgery and the increase in people with diabetes
Type 2 diabetes, a preventable disease caused mainly by obesity and poor diet, has become the 21st century's first pandemic
Click here for more information
---


Mr Sufi discusses 12 things you must know about gastric bands
---
You will need the Adobe Reader to view and print these documents.