Mr. Pratik Sufi
Bariatric Surgeon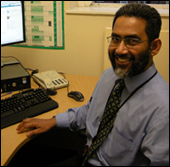 Mr Sufi is an experienced specialist general surgeon. He specialises in the surgical treatment of morbid obesity, diabetes, gastro-oesophageal reflux disease, hiatus hernia, oesophageal dysmotility and strictures. He is an expert laparoscopic surgeon and has a long experience in treating gallstones, hernia and other abdominal conditions like acute appendicitis, perforated peptic ulcers, intra-abdominal adhesions etc using laparoscopic techniques. He is also an expert endoscopist. Mr Sufi has a keen interest in minimally invasive surgery. He has travelled extensively to centres of excellence in Hamburg, Prague, Strasbourg, Oslo, Madeira, Oporto, Paris and Lyon to acquire advanced Laparoscopic, Endoscopic, Upper Gastro-Intestinal and Bariatric Surgical skills. He has advanced skills in insertion of gastric balloons and laparoscopic gastric bands, laparoscopic procedures like sleeve gastrectomy, Roux-en-Y gastric bypass, Nissen's fundoplication, cholecystectomy, splenectomy and hernia repairs.
Mr Sufi is the lead surgeon of the Bariatric and Benign Upper GI Service at Whittington Hospital (NHS) and Spire Bushey Hospital (Private). Under his leadership Whittington Hospital achieved Preferred Provider Status for Bariatric Surgery in South East England, BOMSS accreditation and European Centre of Excellence for Bariatric Surgery (only one of two in the UK).
Mr Sufi is a member of British Obesity and Metabolic Surgery Society (BOMSS), International Federation for Surgery of Obesity and Metabolic Diseases (IFSO), and American Society for Metabolic and Bariatric Surgery (ASMBS). He is also a Fellow of the Royal College of Surgeons of England (RCS).
Mr Sufi practices in a number of locations including the Whittington Hospital (NHS and Private), Spire Bushey Hospital (Private), St John and St Elizabeth Hospital (Private) and the Wellington Hospital (Private).
More details on Mr Sufi and the services he offers are available at CEBLS , London Obesity Clinic, Spire Bushey and Whittington websites.